Join the party of revolutionary optimism.
The Freedom Socialist Party works to replace the ugliness and unsustainability of capitalist rule with international workers' democracy.
We fight as one for all who are exploited and oppressed and for a healthy future for the planet.
What We Fight For
Latest Statements, News, and Analysis
January 6 made clear the acuteness of the danger from the right wing, including outright fascists.
A succinct and encompassing list of what needs to be done here and now to save workers and those hardest hit by economic blows.
The ruling class and the far right both want us divided and at each other's throats on the basis of race, gender, and more. We say no.
Jahil Muntaqim, paroled after 50 years in prison, is being beleaguered by cops and charged with "registering to vote." Do sign the online petition to drop the charges.
As the attempted coup on Jan. 6 showed, far-right propaganda of white supremacy, anti-Semitism and fascism dominate news websites. Read about how this developed over time.
Post a photo or a video on social media calling for freedom for Israeli-held Palestinian prisoners with the hashtag #FreeAhmadSaadat.
The history uncovered by Du Bois' exhaustive research is revelatory.
In Melbourne, refugee rights activists being harassed by local authorities need to be defended, particularly by the union movement.
A notably clear answer to the question of what can practically be done to rescue Planet Earth.
Covid cases are rising rapidly at Central California Women's Facility (CCWF). Call and urge CCWF to intervene and save lives.
Featured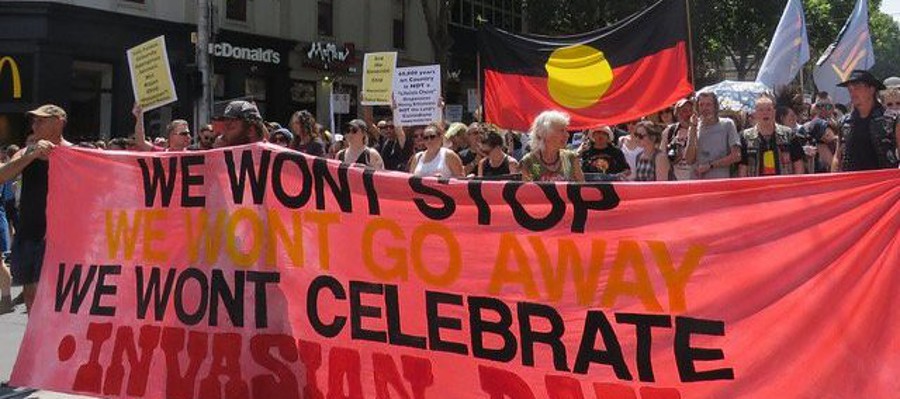 January 26 is Invasion Day. It is the anniversary of tragedy for the Gadigal people of the Eora Nation, whose world was turned upside down in 1788.
FSP Branches
Don't live near one of our branch cities?
Get in touch with one of our
National Offices
to find ways you can still get involved!
From Our Members
Hear from our members on why they joined the Freedom Socialist Party.
"With current U.S. policies and political leaders, it is easy to be disillusioned about what can be done. But being part of the FSP has offered me a radical vision."
Steve Strauss allies with FSP because "it grasps in its bones" that a revolutionary party develops leaders from the ranks of the most oppressed.
From 1982, an insightful personal story by Yolanda Alaniz with resonance for the debates about identity politics today.
"When you understand that fundamental change is so necessary, joining a revolutionary organization is the logical way to help that happen."
Teacher Sam Rubin says he joined the FSP because its decisions are guided by honest Marxist analysis and principles, good sense and militancy.