Join the party of revolutionary optimism.
The Freedom Socialist Party works to replace the ugliness and unsustainability of capitalist rule with international workers' democracy.
We fight as one for all who are exploited and oppressed and for a healthy future for the planet.
What We Fight For
Latest Statements, News, and Analysis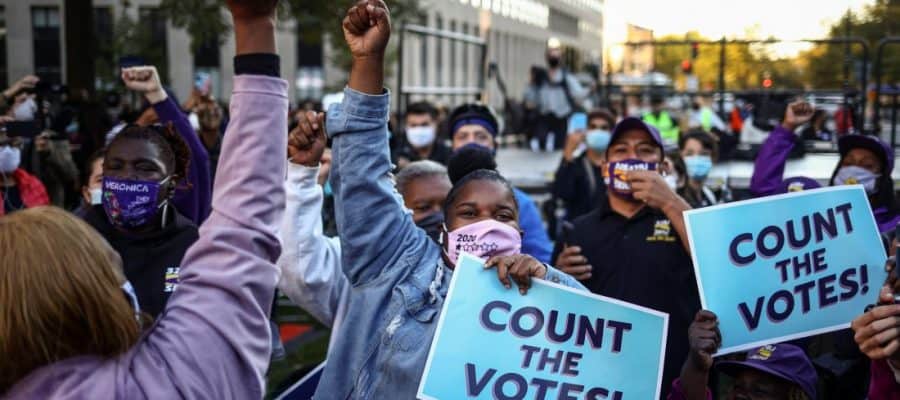 An exploration of what and who voters were casting ballots for and against – and what the country can expect next.
The coronavirus pandemic has thrown the sharp inequities in the U.S. into sharp relief. But they have always been there, and this book explains the role of business and government collusion.
Humanitarian aid to Yemen dwindles as bombings, pandemics, locust swarms and famine bring genocide.
This is a moment of crisis and agony for workers and oppressed people around the world, especially women. But it is also a moment of openings for socialist advocacy.
Does the reality live up to the hype?
From 2018, an exploration of the relationship between poverty and the harm caused by storm floods related to climate change.
In the face of deadly U.S. government indifference, women lead the charge in caring for the sick and elderly.
Oakland plumber and mother recounts the trials and tribulations of keeping it all together during Covid-19.
"Oil Under Troubled Water" explores Australia's dirty deals with Timor-Leste. It's an education every working person needs.
Featured
Behavior that would have gotten detention now gets handcuffs. It's time to get armed police out of schools.
FSP Branches
Don't live near one of our branch cities?
Get in touch with one of our
National Offices
to find ways you can still get involved!
From Our Members
Hear from our members on why they joined the Freedom Socialist Party.
Raised in the Dominican Republic on stories recounted by his communist grandmother, Luis Tejada believes in the power of socialist revolution.
From Bernie Sanders supporter to comrade in a revolutionary feminist party.
An émigré to Seattle from the right-to-work state of Idaho recounts how the 2016 election "shattered my apathy."
"I was too busy already. Married. Me, an activist? A thinker, a doer? An organizer?" Bay Area poet Nellie Wong describes her journey into radical politics.
Emma Allen explains how it all came together for her, leaving no one out.