Whoever said young people are disengaged and uninterested was not looking in the right place! On March 24, I facilitated a workshop at the #RiseUp Youth Conference organized by the L.A. County Human Relations Commission.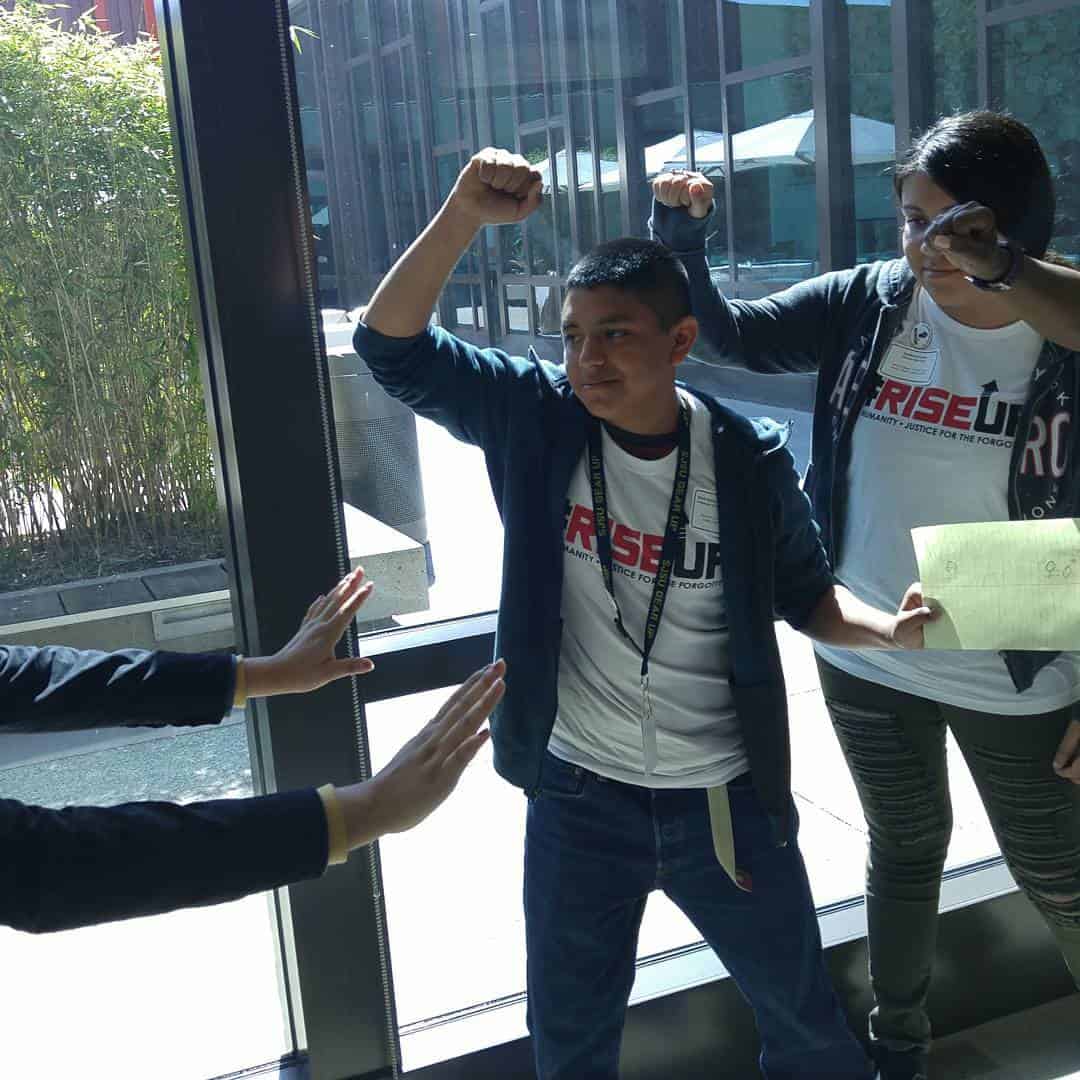 The goal of the conference was to inspire teens to organize around issues they care about. In addition to a welcome assembly and entertainment, there were a number of workshop sessions. This was a great opportunity to share socialist feminism with hungry young minds!
Four hundred students from L.A. County schools joined the conference. This included the Santee High School Gay-Straight Alliance, which won a fight to have all-gender bathrooms in their school.
My workshop was titled, "Wymyn's Rights are Humyn Rights." Twenty-four students signed up! In true Angelino fashion, they were a racial melange: Latinx, Black, white, Asian; mostly women and two men. Our goals were to explore these questions: 1. Why do we fight back, rise and struggle? 2. What is this "system" people keep talking about?! 3. How do we fight it?
I began with an introduction to the FSP and socialist feminism, featuring FSP's work at the January 20-21 Washington, D.C., inaugural protests and Women's March. The students were riveted as I told of marching around the capital on J20 and experiencing the mass of bodies that showed up for the Women's March. I explained that all the marching is for naught unless we fight for each other and push for socialism — where profit is not the driver of humanity but instead a planned economy provides for all people. We talked about how identity politics, only working with people of one's own particular identity, narrows the impact of social movements.
During the workshop we did two Mannequin Challenges. (This is where people act out a story while frozen in action like mannequins as a moving camera films them.) One scenario consisted of a man defending a woman's right to choose while another woman told him to back down. The other scenario was about organizing democratically and working together with other groups, with the example of collaborating with other organizers to gain access to the site of the inaugural protest.
The high point of the workshop was discussing how capitalism works. Students were given a diagram showing the interactions between the means of production, relations of production and so on. The youth gave examples of how each category manifests in their lives and the world. The conversations grew deep as they discussed parents' jobs, police brutality, immigration and other social issues. Revolutionary Integration — radical working-class cross-race solidarity — was being forged among these young men and women.
By the end of the workshop, they could answer the three questions we set out to investigate. It was a proud moment for me to bring Revolutionary Integration to these young minds and let them know that together as a class they are the next generation with the power to stop the capitalist machine.
To see video from the workshop, search #RevolutionaryIntegration on Twitter, or check out the FSP Los Angeles Facebook page.